DOT 3 and DOT 4 Synthetic Brake Fluid
Maximum ABS and traction-control performance
Fights Water Contamination
Water contaminates the brake system by seeping through microscopic pores in fl exible brake lines and seals and through the reservoir fi ll cap. Brake fluid itself is hygroscopic (attracts moisture). Once introduced to the system, water reduces boiling points and compromises performance. It corrodes brake parts, lines and seals, leading to eventual failure. AMSOIL DOT 3 & 4 Synthetic Brake Fluid's superior wet boiling points counteract these problems. It lubricates and protects intricate brake components despite the inevitable water contamination. A nitrogen blanket is added to each bottle during manufacturing to purge moisture and ensure the maximum level of performance.
Product Data Bulletin
[btnsx id="3796″]
Firm Pedal Feel
The extreme pressure and high heat common to brake systems can push brake fluid beyond its boiling point, causing it to vaporize or "boil-off." Water contamination can accelerate the process. This leads to a spongy or unresponsive feeling in the brake pedal (vapor lock). In contrast, the unique chemistry behind AMSOIL synthetic brake fluids increases boiling points well beyond DOT standards, even when contaminated with 3.7 percent water. AMSOIL Brake Fluids maintain a stable viscosity over a wide temperature range and flow easily at the high pressures generated in today's automotive brake systems to deliver solid, reliable braking. Maximum ABS and Traction-Control Performance AMSOIL DOT 3 & 4 Synthetic Brake Fluid's low-viscosity (817 cSt) provides superior cold-weather performance and excellent ABS and traction-control responsiveness. It covers a broad range of applications and exceeds DOT 3, 4 and 5.1 specifications.
APPLICATIONS
Use AMSOIL DOT 3 & 4 Synthetic Brake Fluid in passenger car, light truck and powersports applications that require a DOT 3, 4 or 5.1 product. Do not mix with DOT 5 fluid. Refer to your owner's manual regarding the proper change interval for your brake fluid and to determine the correct DOT classification. Change fluid every two years for maximum performance.
Consult the AMSOIL Product Guide at www.amsoil.com for more application information.
AMSOIL PRODUCT WARRANTY
AMSOIL products are backed by a Limited Liability Warranty. For complete information visit AMSOIL Warranty Information.
HEALTH & SAFETY
This product is not expected to cause health concerns when used for the intended applications and according to the recommendations in the Safety Data Sheet (SDS). An Safety Data Sheet (SDS) at www.amsoil.com or upon request at (715) 392-7101. NOT AVAILBLE IN CANADA. Keep Out of Reach of Children. Recycle used fluid and bottle.
---
Blog Post related to Brake Fluid
Does Brake Fluid Go Bad?
Here is the short answer: Yes, brake fluid can go bad.
Brake fluid absorbs moisture, which reduces its performance. For that reason, it's best practice to change brake fluid every two years. The AAA published a study, stating that brake fluid is the most often missed maintenance item by drivers. People rarely change their brake fluid before it goes bad. If you're like me, you wait until you hear the grinding sound from the wear indicator on the brakes, change the brake pads and bleed the brakes in the process.
Why does brake fluid go bad?
Brake fluid is hygroscopic. That means it likes water, just like a sponge. In fact, brake fluid is notorious for absorbing water. Common brake-fluid testing devices on the market solely test for moisture in the fluid. Here comes the kicker: even if you do everything in your power to prevent moisture absorption, you can still have issues. Brake fluid can absorb moisture in a variety of ways – through the packaging process, while pouring it into the reservoir and even through the brake fluid lines.
How Bad is "Bad"?
Since brake fluid is hygroscopic, required testing simulates real-world field conditions. One of the key testing parameters is the brake fluid's boiling point. The wet & dry boiling points are tested to help communicate the quality of a brake fluid. Here is a quick description of boiling points:
Dry boiling point (ERBP): Measures the boiling point of the fresh fluid right out of the bottle before it has been exposed to, and contaminated by, moisture.
Wet Boiling point (WERBP): Measures the boiling point of fluid after it has had time to absorb moisture from its surroundings, similar to conditions under which the average vehicle operates (3.7 percent water contamination, to be exact).
We recently introduced AMSOIL DOT 3 and DOT 4 Synthetic Brake Fluid. It is purpose built to perform in wet conditions. With a wet boiling point of 368ºF, it far exceeds the minimum requirements of 284ºF (DOT 3) and 311ºF (DOT 4).
How Long Does Brake Fluid Last?
In ideal conditions, an unopened bottle of brake fluid lasts about two years. It's best to use a new bottle of brake fluid every time you need it because the fluid attracts moisture as soon as it is opened.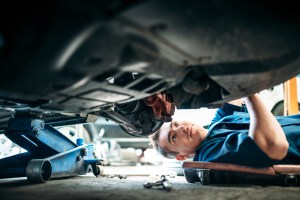 Once in your vehicle, brake fluid life is based on the application in which it's used. Operating conditions – and, thus, fluid life – vary depending on the environment, equipment type and application. In high-humidity areas, moisture is absorbed through the hoses and seals. Racers change brake fluid more often due to significantly higher operating temperatures. To that point, the dry boiling point tends to matter more. That's why we formulated AMSOIL DOMINATOR DOT 4 Racing Brake Fluid to deliver an impressive 580ºF dry boiling point.
Has your brake fluid gone bad?
Although brake fluid absorbs water like a sponge, you don't want your pedal to feel like a sponge when you jam on the brakes. A vehicle using fresh brake fluid should deliver a solid feeling when you hit the brakes, like you're pressing down on a brick. Think of the last time you drove a new car. The brakes likely inspired confidence and felt rock-solid. That's because the entire system was brand new and moisture had yet to infiltrate the fluid.
There are only a couple ways to ensure that brake fluid lasts.
First, change it often and be mindful of the amount of time you expose the product to the environment.
Another is by using AMSOIL DOT 3 and DOT 4 Synthetic Brake Fluid. It is packaged with nitrogen, which prevents moisture contamination naturally common in the packaging process. Additionally, it is engineered with high boiling points to exceed the minimum standards, which translates into solid, confident braking next time that deer jumps in front of your or the guy ahead of you texting suddenly stops.
[fvplayer id="6″]